YOUR DOG GIVES YOU UNCONDITIONAL LOVE.
WE'LL HELP YOU GIVE THAT LOVE BACK.
Like you, we love our pets and care about their health. That's why we created PupHubNow – a service that focuses on the overall well-being of your pup.  From our custom Meal Kits to our quality CBD, we aim to provide the very best to you and your pup!
Although our company was initially founded based upon our Meal Kit concept, we quickly added CBD to our product menu, and shortly thereafter, included treats, fashion and accessories, toys, grooming products, and potty supplies.
We invite you to explore our services and provide your pups with products that will help them live their very best lives!
After all, your pup is part of your family!
Dogs Love Us. Here's Why.
Real Reviews From Real Customers
Testimonials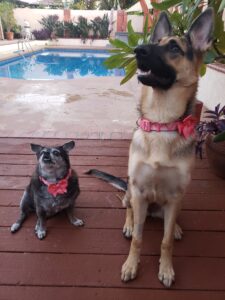 "I guarantee your pups will love it too…"
"Another Month of PupHubNow home cooked meals! Making life Easy, delivery straight to my door and Providing Amazing Healthy Home Cooked Meals for my Girls.   Molly and Stella are completely in love with their home cooked meals. I give them the variety of the Breakfast and Dinner meals!  It's the easiest thing ever, and they truly LOVE PupHubNow!  I guarantee your pups will love it too, and you will never want to go back to anything else."  Morning Experiment
Melissa P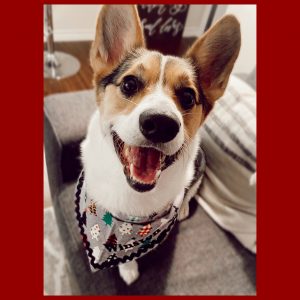 PupHubPosh: "…I love it!"
"We just opened our new custom holiday scarf and I love it!  Winston says thank you!!!"
Meagan J.
PupHubRelief: No More Medications!
"Molly, my older 9 1/2 years, has completely come off her medication, Trazodone for anxiety and separation anxiety and Gabapentin for arthritis and has been on many medications in the past, Fluoxetine, Cloma Calm, and is now on PupHubNow CBD Only, no over the counter medications anymore, and is doing amazing and more spunky and back to her normal self of being my yappy girl!"
Melissa P.
100% Human Grade Ingredients Help With Allergies!
"My dog is not a picky eater so I knew she would absolutely love this food. My sister's dog on the other hand is super picky and seems to be allergic to everything. He loved the Chicken and Turkey Dinner with Veggies and no more rash! It makes me super happy to know that my dog is getting a wonderfully nutritious meal!"
Jennifer S.
Fussy Eater!
"My dog Sammi is the worst fussy eater I have ever seen.  He won't eat any kibble, won't eat Just Food for Dogs and will eat Primal usually around 2 PM when he's starving even though I put it out for him at 9am.  I honestly asked his vet if there was something wrong with his bite because he eats so slow!
No more.
We started eating this (Pup Hub Now)  yesterday. There has been no tummy upset and now he tears into his food and devours it immediately.  Just like his momma! 😂💗"
Mitzi D.
Bella Does Tricks For Treats!
"Bella is in love with the PupHubNow treats and we love them as well! Natural ingredients, made with true care for your pup, plus the cute shapes and packaging are a bonus! PupHubNow has truly great products and we are all excited to try the meals and other treats!" 
Leah B.
"…easy instructions…easy to make, easy clean up!"
"Got my first package breakfast and dinner yesterday. Cooked breakfast bag. Smelled really good. Followed easy instructions fed my over weight dog this morning. She loved it! Now I'm cooking the dinner. Easy to make easy clean up. Ingredients are so fresh easy storage. What else can I say? The sweet potato snack are light and crispy easy for my dog to chew. What else can I say! Great product. Thank you Courtney! Minnie says ty!"
Sandra J.
PupHubPosh: Personalized Collar – Bella!
"Bella is loving her PubHubNow / PubHubPosh bling! 🧡🐾🐶"
Leah B.
PupHubPosh: Happy Pups Sporting their new Holiday Scarves!
"Thank you PupHubPosh!  We absolutely LOVE our new scarves and can't wait to get our holiday photos done!"
Elora H.
PupHubRelief: Calming Effect!
"Otis has a lot of energy and has a hard time settling down.  I give him his CBD before bed and I can actually see his body relax and show less tension. He is sleeping well!"
Eugene F.
PupHubRelief: Ease Anxiety!
"I gave it (CBD) to her when it was raining hard and thundering.  She did really well!"
Erica from Borrego Springs